Collections
Shop for artwork based on themed collections. Each image may be purchased as a canvas print, framed print, metal print, and more! Every purchase comes with a 30-day money-back guarantee.
About Jeff Lowe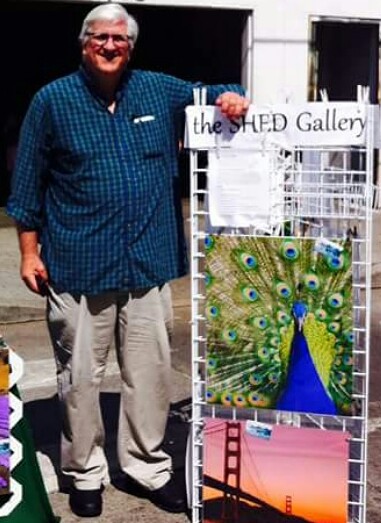 May 2018
Over 1,500 of my images are available for your viewing pleasure. All photos are available in a variety of sizes and styles including prints, wrap around as well as frames and several other products such as tote bags, pillow covers, duvet covers, cell phone cases and more. I thank you for purchasing from me. Your purchase helps me buy thousands of candy canes for the 10,000 children I visit every Christmas season. Yes, I portray Santa. You can follow Santa on Facebook and Instagram as I Believe In Santa hohoho.

March 4, 2015

>>> My photos will be available for sale starting Saturday, March 28th from 9-2 at The WALL Farmer's Market located in the heart of downtown Los Angeles in the flower district. I have established a new presence called The SHED Gallery on Facebook, Twitter and Instagram. If you are in LA, stop by for a visit and introduce yourself. I'll be the tall, beefy, white haired guy in the new white canopy. To start, the images will focus on fruit, vegetables, flowers and a few other subjects. There is no cost for the farmer's market but there is a $1-2 cost to enter the beautiful flower markets. Hope to see you.
Jeff

February 21, 2015

>>> It's been awhile and we are well into 2015. Lots of exciting activity. I've been out shooting and will have many new images posted as soon as I can get them edited.
EXCITING news coming but I'll be displaying (and hopefully selling) my photos in the heart of the largest flower market in the United States. The WALL Farmer's Market is where I'll be on Saturdays from 9-2. I'll post when my start date will be but I still have to construct a display and go through and choose the best flowers, fruits, veggies and a few other photos. Stay tuned.

July 22, 2014

>>> It's been graduation season and so editing and uploading new images to my store has been delayed a bit while all my time has been spent editing and processing hundreds of graduation photos. I've also moved a new Masters graduate into our home and am enjoying spending time acquainting her with the area and showing her many of the attractions in the area. I hope to return to editing and uploading almost 1000 new photos in the near future. In the meantime, enjoy browsing from among over 1500 images. All photos are searchable by typing in a keyword. Many photos are organized into galleries or you may also browse individual images too. Enjoy and I hope that depending upon where you live in the world, that your summer or winter are treating you with kindness.

May 22, 2014

>>> Best laid plans, as they say. After the two week tour with the Italians ended my plan was to sort through my archives for more images to offer here in my store. I've got 178 images ready to upload but instead, I was honored to photograph a beautiful young Navajo lady who is beating long odds by graduating from the University of California, Los Angeles (UCLA) with her Masters. A huge accomplishment for a fine girl. She was a sweetheart for the entire session and with that project done I will get back to my archive work...sadly.

Jeff


May 13, 2014
>>> I just returned from being on the road for a couple of weeks driving and guiding a private tour of the American Southwest for a group of 10 lovely Italians. Now that the laundry and chores are done, I am again starting to sort through my archives of photos to sort and edit those that are good enough to be uploaded here for your viewing and purchasing pleasure.
>>> Remember: My images are best when viewed in a larger size. You can search for any image by using a keyword. All images are organized into galleries for your convenience. Enjoy.

Jeff


April 25, 2014
>>> 1,555 are now available for your browsing and purchasing pleasure. Your purchase allows me to buy gas to get into the field to take more photos. I will now be sorting and editing about another 1,000 photos to decide if any are worthy of being uploaded here to my store.
>>> Attention AVIATION and AUTO enthusiasts: I do not know my planes and cars. Some of the photos I just posted do not have any accurate names so if you know the correct information about a plane or car, PLEASE leave me a comment. Each photo page has a comment option. I will make the corrections and/or additions to the text and keywords.

April 24, 2014
>>> Here's one of many awesome photos now available in the Aviation Gallery. This is the Airbus A380, the world's largest commercial aircraft as it landed at Los Angeles International Airport for the first time.


April 23, 2014
>>> Check out all the new images in my "Nudes and Sculptures" Gallery. Here is a sample of the 94 images. The images are some of my best work and reflect 25 years of photographing nudes/sculptures.



>>> Remember that all my images are searchable by a keyword. View Galleries that interest you and/or simply type in a keyword to search.
>>> All my images are best when viewed in a larger size so simply click on an image to see it in a bigger size.
>>> 1,428 fine photos are now here for your pleasure. I will be uploading about another 150 in the next few days, primarily aviation and cars.

April 20, 2014
>>> Sports fans! Dodgers fans! Check out the new 5 image series, "Los Angeles Dodgers" which highlight field views.




April 19, 2014
>>> If you love BLT sandwiches, check out the 5 new images in my Food Gallery...or just type in BLT. Enjoy! Perfect for you kitchen wall.




April 18, 2014
>>> Check out my new four photo "Alien Cloud" series. They were shot over the Pacific Ocean in Los Angeles. I've lived in the area my entire life but have never seen anything like these clouds.




April 16, 2014
>>> My "Great American West" series is now available! These images feature bold golden grass, blue skies, an old windmill and fences. They make a nostalgic addition to any home or office or as a gift.







April 15, 2014
>>> 1,250 unique and beautiful photos are now available! You may search all photos using a keyword and they are also organized into galleries.
>>> This is the deadline to pay your taxes here in America. Whether or not you're getting a nice tax refund, treat yourself by purchasing a beautiful photo for your home, office or a friend. Here's a recent upload.




April 11, 2014
>>> 1,150 fine art photographs are now available for your viewing and purchasing pleasure. Please be sure to spread the word to your friends about my online store.
>>> Check out the exciting, awe inspiring series of forest fire smoke photos I just posted today. Here's a favorite of mine to get you started.
http://jeff-lowe.artistwebsites.com/featured/forest-fire-smoke-over-pasture-and-oak-jeff-lowe.html


April 10, 2014
>>> 1,112 photos are now online for your viewing and purchasing pleasure !
>>> Check out the beautiful DAHLIAS I just posted. The bold colors are perfect for any room in your home, office or as a gift.



April 4, 2014

My Big Spring Sale Price Reduction continues. See my announcement below from April 1.

>>> 1,033 prints are now available for your browsing and purchasing pleasure.
>>> Please share my store with family, friends and colleagues. Facebook, Instagram, Tweet, email...whichever social media you prefer.
>>> Look for more fresh new uploads in coming days!!



April 1, 2014

My profit margin prices have now been reduced by 50+%! Yup, now I've gone and done it! I just reduced my profit margin prices by 50+% on photos in my online store.

Thank you for visiting my online gallery store. A special thank you to those who have purchased my photographic artwork. I deeply appreciate each of you for supporting my work. I encourage you to browse and hopefully purchase. It is your purchases that keep me in the field taking photos. My photos are best when viewed large so click and enjoy all the detail that you can't see in a small thumbnail.

You may browse by "galleries", by individual "artwork" or simply search by typing in a keyword. Love Yosemite National Park? Simply type in Yosemite or just open its gallery. I offer prints of many types and sizes, canvas gallery wraps, metal prints and even cell phone cases. I'd really appreciate you sharing my store with all your friends. Thanks for your support!

Jeff


August 10, 2013

Welcome to my gallery store! I'm happy you're here and hope you enjoy browsing through over 600 of my photos. I would suggest you click on GALLERIES at the top (or just below) of this page which will display several different categories of photos.

Here in Los Angeles, our weather has been unseasonably cooler than normal. In addition to my photography, I mentor new and experienced teachers and also provide private, custom designed tours. This Friday, I'm about to embark on a cross-country road trip from Los Angeles to Boston. Though this is a quick trip, I'm hoping I come upon some great photo opportunities.

Again, thanks for stopping in and I hope you enjoy looking at my photos and perhaps purchasing. The holidays are just around the corner and of course, don't forget surprise gifts for friends, birthdays, weddings and innumerable other occasions.

Jeff



April 2, 2013

A very happy Spring to everyone! Here in Los Angeles, the temperatures are in the 70's and the wildflowers are blossoming in the countryside outside the city! I hope this season of renewal finds you in good health and that your weather offers hopes for a fresh start in 2013.

My recently uploaded photos of the United States' NASA's Space Shuttle Endeavour are selling nicely and would make a nice addition to your collection. It did a stunning, very low flyby right in front of my camera in Los Angeles! Of course, I did find just the right, secret place to photograph it. I hope you enjoy them! I also uploaded a gorgeous image of the Golden Gate Bridge in San Francisco, California and an interesting abstract of Yosemite National Park Dogwood blossoms as seen through a 100 year old window in Curry Village.
Jeff

December 15, 2012
The holidays are here. Consider a unique photo for a special family member, friend or colleague.
I'm now offering gallery wraps (where the image wraps around the edge of the frame), metal prints and acrylics as well as regular prints. All of my photos are also now available as greeting cards!

Consider a GALLERY WRAP (the photo wraps around the edges of the frame). It's easy...here's how:
1. Click on the photo you are considering
2. Select your size (step/tab1)
3. Select your canvas, glossy or matte
4. Select the WRAP tab (step/tab 4)
5. Select the GALLERY WRAP (Continuous Image Sides) which wraps the photo around the edges of the canvas. You will be able to see how beautiful it looks right before your eyes.

629 photos are now available for your viewing and purchasing consideration

>> BIGGER is BETTER! Click and view photos LARGER. It's worth it!
>> Looking for a particular photo subject? Use the word search feature!
>> Click on the "galleries" or "artwork" tabs to view.

As for me, I'm just an ordinary guy trying to take extraordinary photos I like. Your purchase buys gas so I can continue to wander in search of more fine images for you.
Thanks!
Jeff